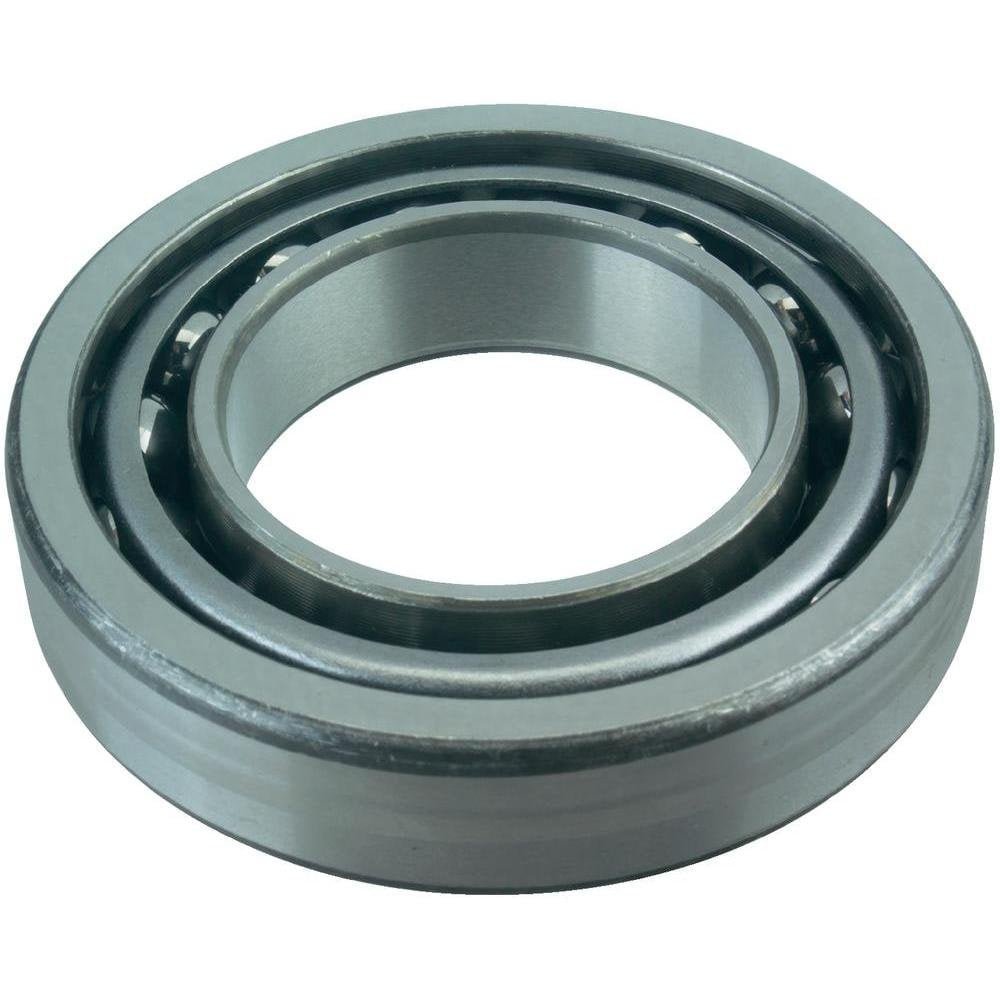 Product Description
The FAG single-row, open, angular contact bearing has asymmetric races with a 40-degree contact angle to support both axial and radial loads. It has a CN (normal) radial internal clearance for applications that do not involve thermal expansion, and its brass cage evenly spaces the rollers for even load distribution and prevents contact to reduce friction, vibrations, and noise, and extending the life of the bearing. It has an open configuration for lubrication in place and applications involving negligible exposure to dirt, grime, debris, and other contaminants. This angular contact ball bearing is suitable for use in applications that involve combined radial and axial loads, and a need for high running accuracy and stiffness at high rotational speeds. These applications include clutches, drives, gearboxes, compressors, pumps, turbines, and printing and textile machines, among others.
Specifications
| | |
| --- | --- |
| Main bearing dimensions | DIN 715 |
| Basic dynamic load ratings | DIN ISO 281 |
| Dimensional and geometric tolerances | DIN 620-3 (ISO 199), tolerance class PN |
| Through-hardening steel for inner and outer rings and rollers | ISO 683-17 |
| Steel strip for cage | EN 10139, SAE J403 |
| Load carrying capacity and life | DIN ISO 281 Appendix 1 |
| System for creating part numbers for rolling bearings | DIN 623-1 |
Rolling bearings use rolling elements to maintain the separation between moving parts to reduce rotational friction and support radial and axial loads. These elements can be one of the following types: ball, cylindrical, spherical, barrel, needle, spindle, or tapered. All rolling bearings are open, shielded, or sealed. Sealed bearings are lubricated with oil or grease in the bearing factory, while open and shielded bearings are meant to be lubricated in place, with periodic reapplication of lubrication, based on use. The shield protects the working parts of the bearing from environmental debris that may be introduced and could reduce the ball bearing speed and lifespan. Rolling bearings are used in a range of applications from agricultural machinery to conveying equipment, robotics, dental equipment, elevators, rolling mills, ship rudder shafts, and aggregate crushers, among others.
FAG manufactures a variety of bearings that meet International Organization for Standardization (ISO) and Deutsches Institut für Normung (DIN) standards for quality assurance. The company, founded in 1883, is based in Schweinfurt, Germany.
Product Features
Axially asymmetric races with a 40 degree contact angle to support both axial and radial loads
CN (normal) radial internal clearance for applications that do not involve thermal expansion or atypical precision
Brass cage evenly spaces the rollers for even load distribution and prevents contact to reduce friction, vibrations, and noise
Open bearing for lubrication in place and for use in applications with little exposure to dirt, grime, debris, and other contaminants
Specifications for this item
| | |
| --- | --- |
| Brand Name | FAG Bearings |
| Part Number | 7314-B-MP-UA |
| System of Measurement | Metric |
| Bore Diameter | 70  mm |
| Outside Diameter | 150  mm |
| Overall Width | 35  mm |
| Max Rotational Speed | 5000  RPM |
| | |
| --- | --- |
| Static Load Capacity | 20800  pounds |
| Dynamic Load Capacity | 26000  pounds |
| EAN | 4012801207706 |
| Item Weight | 6.39 pounds |
| Number of Items | 1 |
| UNSPSC Code | 31171500 |