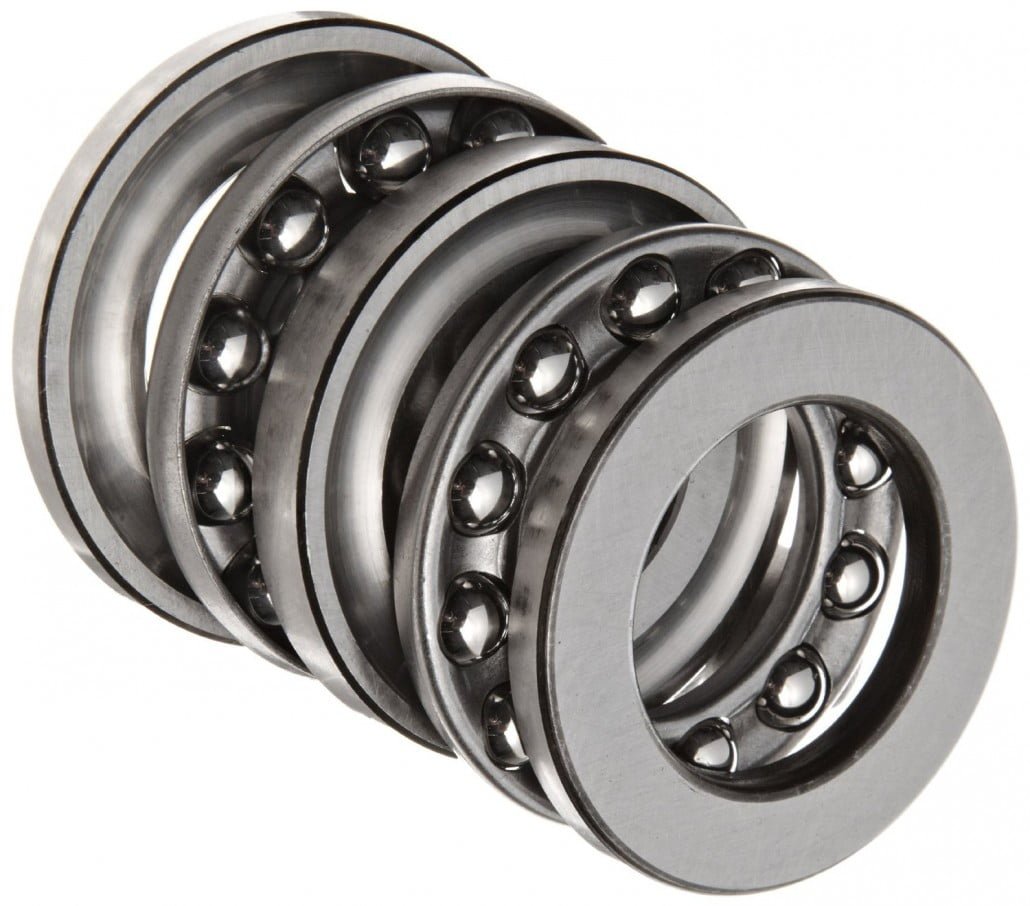 Product Description
This FAG double-row, double-direction thrust ball bearing has a 90-degree contact angle, steel cages, and an open construction. It is suitable for moderate-speed applications that support heavy axial loads in both directions and no radial loads. This deep-groove thrust ball bearing consists of two housing locating washers (rings), a shaft locating washer, and two ball and cage assemblies. The washers have grooved raceways that conform to the balls rotating between them, allowing higher speeds and thrust bearing capacity than bearings with flat raceways. The double-row design supports bidirectional thrust loads with minimum axial deflection, increasing the load carrying capacity, and the open construction allows for the bearing to be lubricated in place. This bearing has a 90-degree contact angle in which the ball and inner and outer raceway contact points are on a plane parallel to the axial load, which enables the bearing to receive high axial force. The balls and washers are made of a low-alloy, through-hardened chromium steel for durability, heat tolerance, and resistance to deformity under heavy loads, and the sheet steel cage prevents the balls from coming into contact with each other during use, reducing friction, vibration, and noise. This bearing is separable so it mounts more easily than nonseparable bearings because its components can be installed independently. It can be used at operating temperatures from -30 degrees C to 150 C (-22 degrees F to 302 F). This thrust ball bearing has a PN (normal) tolerance class rating for dimensional accuracy and is suitable for applications including machine tool drive shafts, automotive steering gears and clutches, rotary tables, outboard motor propellers, and household appliances.
Specifications
| | |
| --- | --- |
| Main bearing dimensions | DIN 715 |
| Basic dynamic load ratings | DIN ISO 281 |
| Dimensional and geometric tolerances | DIN 620-3 (ISO 199), tolerance class PN |
| Through-hardening steel for inner and outer rings and rollers | ISO 683-17 |
| Steel strip for cage | EN 10139, SAE J403 |
| Load carrying capacity and life | DIN ISO 281 Appendix 1 |
| System for creating part numbers for rolling bearings | DIN 623-1 |
Rolling bearings use rolling elements to maintain the separation between moving parts to reduce rotational friction and support radial and axial loads. These elements can be one of the following types: ball, cylindrical, spherical, barrel, needle, spindle, or tapered. All rolling bearings are open, shielded, or sealed. Sealed bearings are lubricated with oil or grease in the bearing factory, while open and shielded bearings are meant to be lubricated in place, with periodic reapplication of lubrication, based on use. The shield protects the working parts of the bearing from environmental debris that may be introduced and could reduce the ball bearing speed and lifespan. Rolling bearings are used in a range of applications from agricultural machinery to conveying equipment, robotics, dental equipment, elevators, rolling mills, ship rudder shafts, and aggregate crushers, among others.
FAG manufactures a variety of bearings that meet International Organization for Standardization (ISO) and Deutsches Institut für Normung (DIN) standards for quality assurance. The company, founded in 1883, is based in Schweinfurt, Germany.
Product Features
Double direction, deep-groove thrust ball bearing for moderate speed applications that support heavy axial loads in both directions
Open bearing for lubrication applied in place
Through-hardened chromium steel for durability and resistance to deformity under heavy loads
Sheet steel retainer evenly spaces rollers for reduced friction, vibration, and noise
Grooved raceways for higher speeds and thrust-bearing capacity than flat washers
Specifications for this item
| | |
| --- | --- |
| Brand Name | FAG Bearings |
| Part Number | 52318 |
| System of Measurement | Metric |
| Bore Diameter | 75  mm |
| Outside Diameter | 155  mm |
| Overall Width | 88  mm |
| Max Rotational Speed | 1700  RPM |
| | |
| --- | --- |
| Static Load Capacity | 104000  pounds |
| Dynamic Load Capacity | 44000  pounds |
| Specification Met | DIN 623-1/DIN ISO 281/EN 10139/ISO 199/ISO 281/ISO 683-17/SAE J403 |
| EAN | 4012801322454 |
| Number of Items | 1 |
| UNSPSC Code | 31171552 |